I know you might think that is not the case since i've not posted an actual project in months! AAK! I have to say the time has escaped me- BADLY, and when we DO have a good school day, i BARELY have squeezed in enough time to do that, let alone photograph and blog our activities! I must say- this year has been rough. I've manipulated our schedule, our curricula, our activities, and i think i might have FINALLY found a plan that will work- AGAIN!
~~~~Science~~~~~
But by the grace of God, today was a good day! We started our school work with science- Nik, Chloe, Anna, and Leif all learned about the periodic table of elements using their new science curriculum-
Real Science 4 kids- pre level 1 for anna and leif, and level 1 for chloe and nik
By the way, this site, has the FULL LENGTH texts for you to view online! AWESOME! that's what sold me, love these!
Anyway, Chloe and Nik learned about the periodic table, about how protons and electrons have the same number, how the number of neutrons can be determined by the atomic weight minus the atomic number (not too shabby for 4th and 6th graders, i must say!) and researched common household items and what elements they contained.
Anna and Leif learned about atoms also, and how things are different based on their atomic and molecular structure. they learned also about the difference between remembering something and observing something. they all had a great time.
~~~~~~Art~~~~~
Wow. What a fun project! I got the idea from the
Art projects for kids site
February is Black History Month and so i thought i'd start with an African American artist, and who better to start with than
Lois Mailou Jones
, an amazing painter who lived from 1905-1998. We used her piece "Les Fetiches" Which she painted oil on linen, but for the sake of my house and sanity we used black artist paper and chalk pastels. Here's the original piece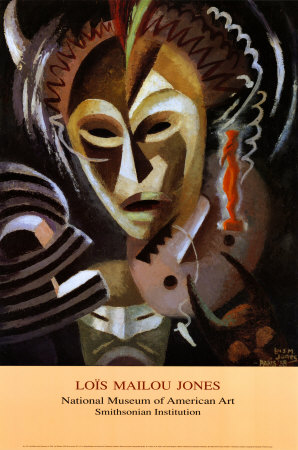 Isn't it GORGEOUS?? So mysterious, and the colors on black thing is so striking!
So my assignment to my kiddos, and myself, was to make a face based picture on black with chalk pastels, and try to add mystery to the piece. here's what everyone came up with, oldest to youngest.
Mine
Alex- age 15
Nikolas- age 12
Chloe- age 9
Annabeth- age 7
Leif- age 4
Nice huh??? i was excited. I think Nik's was my favorite. He also followed directions the best :)
So after art, each went on to work on their own independent core subjects, and I went off to work with Annabeth on reading, math and geography.
Then since everyone did such a great job at school, we watched "groundhog day".
Off to read the readaloud story to the middle kids! thanks for visiting!!!