So, i love giveaways, and I hope to offer more in time, simply because they are SO fun! And today's giveaway is NO exception. I have been in love with the NaturExplorers unit studies since I discovered them about 6 months ago. We have most of them, and have done parts of several, (since we tend to hop around a lot!) Cindy West from
Shining Dawn Books
was generous enough to give one of my blog readers 2 fantastic
N
aturExplorer unit studies!
Check out what you could win!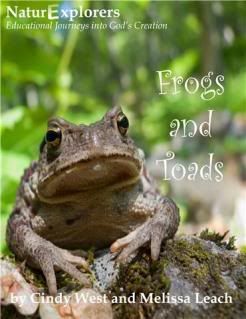 Spring and summer nights spent listening to the calls of frogs and toads are so peaceful. Something about finding a frog or toad is peaceful, too. Maybe it's because they often allow you to quietly sit and observe as they go about their daily life, well most toads do anyway.
This unit will first teach you the best places to look for frogs, toads, eggs and tadpoles. Once you find them, we'll help you make the most of your observations in the field and at home. You'll find all kinds of hands-on suggestions such as measuring jumps, making comparisons, creating toad abodes, observing meal time, making toad inspired recipes and putting together 3-dimensional displays.
The Frogs and Toads study will keep you busy learning about such things as metamorphosis, amphibians, vertebrates, cold-blooded animals, carnivores, molting, and vernal pools. And this list only covers a small sampling of topics, not to mention the 15 notebooking pages included!
Any child who brings frogs or toads home in their pocket will love this unit! But, those of you who prefer to watch frogs and toads from a tad further distance will love it, too. Frogs and Toads makes a wonderful study for spring or summer.
AND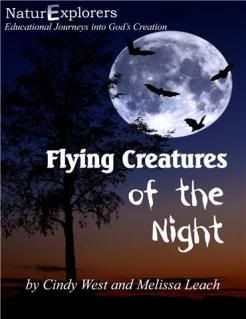 Flying Creatures of the Night offers you a unique nighttime nature study packed full of fun ideas! Although the unit covers topics that would be suitable for many nocturnal creatures – such as night vision and predator/prey relationships – we've chosen to focus much of the teaching around flying nocturnal creatures. Most specifically, bats, owls, moths and fireflies.
These creatures are brought to life through outdoor observations, experiments and comparisons that are simply perfect for any summer night's study. Many of the ideas can be completed during spring and autumn, too, with the exception of activities directly relating to fireflies. We've even thrown in a couple of winter suggestions!
Back inside, have fun making models, completing experiments, playing games, eating simple snacks and creating beautiful art projects.
Experiments and research suggestions will help you answer the following questions and so many more: How do your pupils or sense of smell compare to a nocturnal creature? Can you communicate as well as a firefly? Can you create moth symmetry? Have you ever thought about the migration or hibernation of a nocturnal creature?
Creative projects and writing assignments galore will help you classify nocturnal creatures, compare them to diurnal creatures, dive deep into specific species, make maps, diagram bodies and life cycles – plus oodles more!
Fifteen notebooking pages add to the excitement indoors and out in this unit. Night owl or not, we think you'll enjoy this exciting change of pace from daytime nature study!
So! for your chance to win both of these great ebooks, please reply to this post and tell me, What is your favorite Charlotte Mason or nature study resource. Looking forward to all of your feedback, and don't forget to follow Cindy on Pinterest, Facebook, and her blog!